Promotion, Advertising and Publicity Standards
Harlaxton College strives to maintain consistent standards in relation to all aspects of marketing and communications. Harlaxton has created this pathway to assist in the marketing of Harlaxton semesters and custom programs. The images available on this page are the only authorized images that may be used in promotion and advertising of programs at Harlaxton College or partnerships with Harlaxton College. All materials must contain the Harlaxton College Logo and may only use the approved images of Harlaxton Manor.
The use of any other images of the manor is not permitted and would be considered violating our standards of excellence. Flyers, posters, websites, or other advertising materials must contain the Harlaxton logo and failure to use this logo also violates our standards. If alerted to any advertising and promotional materials that violate our standards, Harlaxton College will request that they are removed immediately and only replaced by materials that conform to the standard provided.
Style Guide
Logos
Harlaxton Shield for Partners (black)
Harlaxton Shield/Logo for Partners (white)
Harlaxton Shield/Logo for Partners (black)
Photography
Click the thumbnails below to view and then download the full size photo.
Exterior shots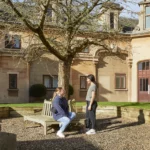 Interior Shots